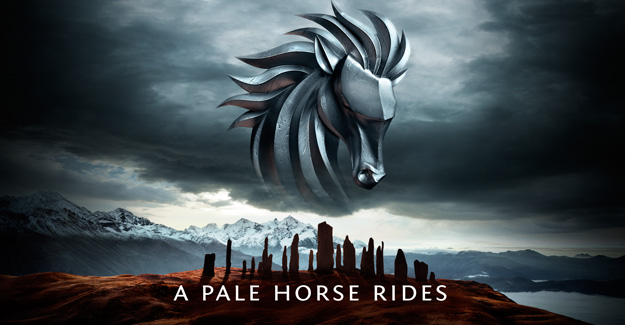 A Pale Horse Rides to Explore the Martin Luther 500th Anniversary in Churches Across North America
Trust in organized religion has declined significantly in recent years. In fact, the Pew Research Center recently released a report revealing that the Christian share of the population fell eight percent between 2007 and 2014. People are eyeing the Christian church with suspicion and some even feel betrayed by the news they hear about religion throughout the world. Are their fears justified? Did something go wrong at the dawn of Christianity? 
Starting Oct. 27, churches across North America will explore these questions by studying the Bible's predictions for Christianity's future. In addition, stories from the 1,200 years that led up to Martin Luther's Reformation will illustrate this topic perfectly as the world celebrates the 500th anniversary of the year Luther nailed his 95 Theses to the door of the Castle Church.
A Pale Horse Rides, hosted by Voice of Prophecy Speaker/Director Shawn Boonstra, will take a documentary-style, Bible-based approach to this topic. Boonstra recently traveled to Europe to make history come to life and introduce an intriguing group of ancient barbarians who mysteriously became Christians during the collapse of the Roman Empire. "By studying the history of Christianity, we can learn what may be the best chance for its future," said Boonstra.
This series will address questions such as:
What happened to the Christian churches outside of the Roman Empire?
How, exactly, did our ancestors become Christians?
How does the Bible deal with the fact that Christians are often less than Christ-like?
What would the church look like without the merger of church and state?
How can Christianity still insist that it's the religion of Jesus when we all know that Christians ran torture chambers and burned people at the stake?  
Like last year's Shadow Empire series on the life of Constantine, A Pale Horse Rides will involve both documentary-style and live elements, featuring a local moderator. All are welcome to attend this free event, and at many locations, attendees will receive a copy of Boonstra's new book, A Pale Horse Rides. 
"During A Pale Horse Rides, you will learn the stories that paved the way for Martin Luther's Reformation and how they continue to echo through the lives of every person on earth today," said Boonstra. "I hope you will join us for this intriguing study!"
The three featured topics will be: "Rome Is Burning," "Barbarian Fire," and "An Underground Movement," and it all begins Oct. 27.
Find the A Pale Horse Rides location near you at www.palehorserides.com.