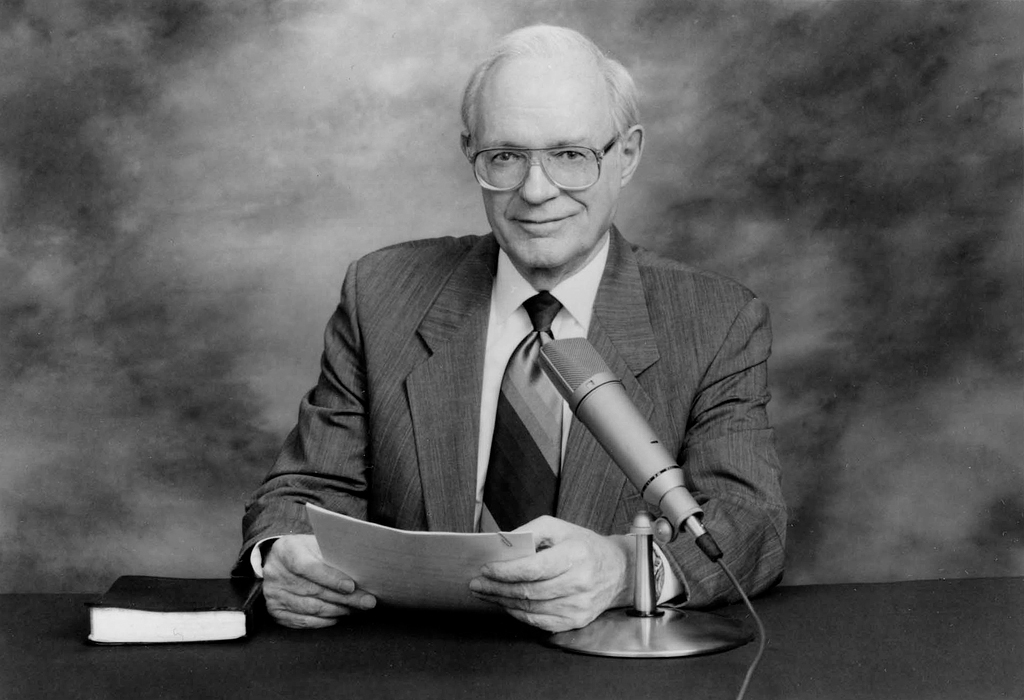 Kenneth Richards, Long-Time VOP Leader, Son of Founder, Passes to His Rest
Richards Remembered as a Gifted Researcher, Writer, Speaker, and Friend to Many
Kenneth (Ken) Richards, who served as associate speaker of the Voice of Prophecy from 1986 through 1993 and was the son of VOP founder H.M.S. Richards Sr., died of cancer on April 6, 2020 at a care facility in Camarillo, Calif. He had spent the last two years of his life with his son and daughter-in-law in Newbury Park, Calif. He was 89.
Ken joined the Voice of Prophecy staff in 1974 as a researcher and writer, and later was appointed producer and announcer for its Sunday broadcast. In 1986, he was asked to serve as the associate speaker of the ministry, working closely with his older brother, H.M.S. Richards Jr., VOP speaker/director at the time.
Ken assists his father, Voice of Prophecy founder H.M.S. Richards Sr.
Ken was known at the Voice of Prophecy as a thorough researcher, a gifted writer and speaker, and a cherished friend.
"Ken was one of the friendliest men I have ever met; always a smile on his face, along with an engaging sense of humor," says Kurt Johnson, Voice of Prophecy Bible School director. "He had a kind, encouraging way about him that made you feel at ease. He was genuinely thankful you took time to talk with him."
The integral part that Ken played in the success of the Voice of Prophecy for so many years is not lost among the ministry's leadership today.
"To know that we have lost another member of the family that gave so much to make the Voice of Prophecy a worldwide phenomenon makes for a sad day," says Shawn Boonstra, Voice of Prophecy speaker/director. "But as the Bible points out, we can all look forward to the day when God finally wipes away all of our tears. I'm thankful for the commitment of the Richards family over the years, and for the important contributions that Ken made. We wouldn't be what we are without it."  
Kenneth Eastman Halbert Richards was born November 18, 1930 in Los Angeles, the third of four children born to H.M.S. and Mabel Richards.
Ken grew up in the Los Angeles area. He graduated from Glendale Adventist Academy in 1949, where he served as student body president, was a member of a male quartet, and played the clarinet in the academy's band.
Ken continued his education at La Sierra University. He graduated there in 1953 with a bachelor's degree in theology. He would later earn a master's of divinity and a doctorate in Old Testament studies.
In 1951, mid-way through his time at La Sierra, Ken married the love of his life, Jacqueline (Jackie) Mills. The couple would be married until Jackie's death in 2013. Upon graduation from La Sierra, Ken joined the Colorado Conference. During his time in Colorado, Ken began his first venture into the family ministry of radio broadcasting, initiating a program he dubbed "Truth for Today."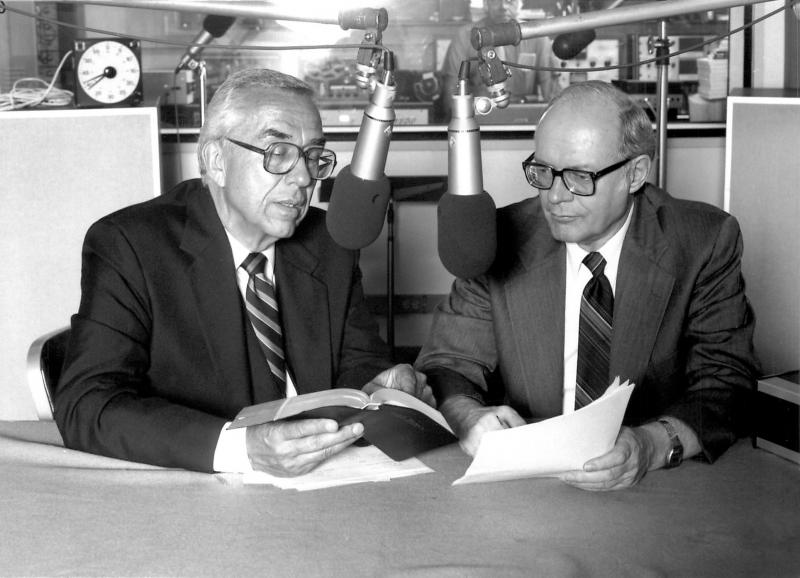 Ken with his older brother, H.M.S. Richards Jr., VOP speaker/director from 1969 to 1992.
In 1956, Ken accepted the invitation of the Southern California Conference to join their pastoral team. He was ordained to the gospel ministry in 1957 at the camp meeting in Lynwood, Calif. His father gave the ordination charge. Two years later, in 1959, Ken and Jackie were doubly blessed with the arrival of twin sons, Kenneth Jr. and Kirk.
Ken's ministry took an international turn in 1964, when he was invited by Columbia Union College to serve as their faculty representative on the campus of Newbold College in Bracknell, England, where he taught religion. Following two years there, he joined the religion faculty of his alma mater at La Sierra. After four years in the classroom, Ken returned to pastoring, serving churches in Southern California for four years.
In 1974, Ken joined the staff of the Voice of Prophecy as a researcher and writer. As a writer, his work was thorough and well-researched, drawing from his extensive personal library of over 5,000 books.
"He was a scholar, theologian, and an avid book reader—he loved his books," remembers Johnson.
He later took on the responsibilities of producer and announcer for VOP's Sunday program. Many of his broadcasts focused on encouraging his listeners to make a commitment to the Lord he loved.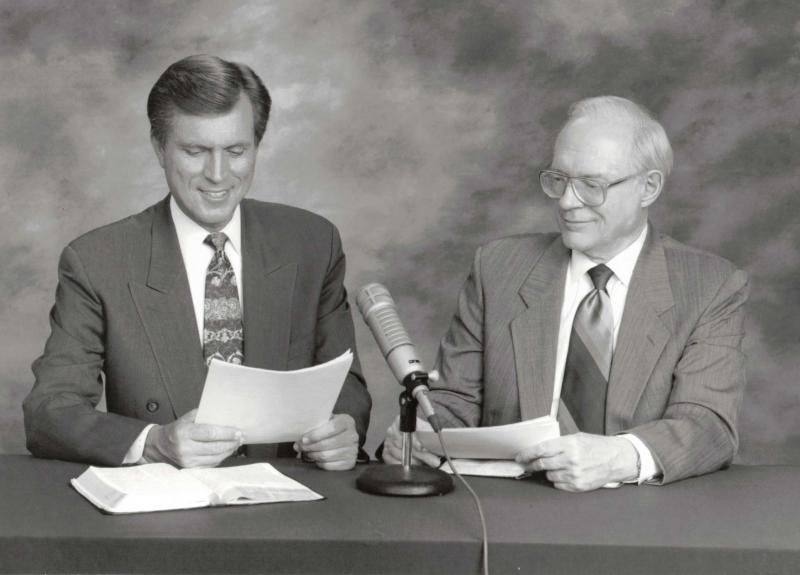 Ken with Lonnie Melashenko, VOP speaker/director from 1992-2008.
"Ken was a faithful disciple of Jesus and longed for people to accept Jesus into their lives," remarks Johnson.
In 1986, he was named associate speaker, a position he would hold until his retirement in 1993. During this time, he represented the ministry in a variety of roles, including preaching, developing programming, and speaking on the VOP broadcasts.
In retirement, Ken continued to enjoy biblical research, writing, preaching, and contributing at the Voice of Prophecy. Some of his projects included assisting with the editing of the original Discover Bible Guides and serving as lead editor for the Native New Day Bible Guides.
He is survived by his sons Kenneth Jr. (Erma) of Redlands, Calif. and Kirk (Carol) of Newbury Park, Calif., and four grandchildren.
Memorial gifts may be made to the Voice of Prophecy or the H.M.S. Richards Library at La Sierra University.